2017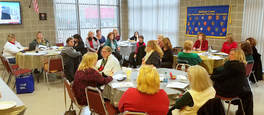 December 5, 2017 Meeting Agenda
Starting with Jenish Sudhakaran, a Population Assessment Coordinator, and Natalie Kratz, a Statistical Analyst, of the New Jersey Department of Health presented an update on policies, procedures and results of school immunization audits. The second group of speakers, Cierra Hart, BA and Ameshia E. White, BA, educated the Public Health Nursing community concerning Services Empowering Rights of Victims of Human Trafficking.
NJAPHNA presented the 2017 Public Health Partner of the Year Award to Colleen McKay Wharton, Program Manager of Rutgers School of Public Health, Center for Public Health Workforce Development. This award is in recognition of her collaboration with and positive impact on the Public Health Nursing community.
​
---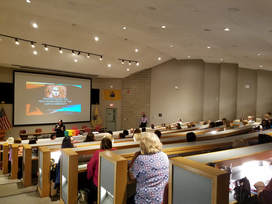 September 19, 2017
:
(13th NJ PHN summit), Meeting Agenda"Expanding Your Cultural Responsiveness: Understanding the Healthcare Needs of the LGBT Community"Topics and Presenters:
Strategies for Reducing LGBT Health Disparities Jackie J. Baras, MSN, MBA, RN Quality Nurse Manager, Perioperative Services Chair - Promoting Respect Outreach Understanding and Dignity (PROUD).
​LGBT Heath Disparities: Assessing Practice and Policy in your Health Department Philip T. McCabe CSW, CAS, CDVC, DRCC Rutgers School of Public Health / Rutgers School of Nursing.
---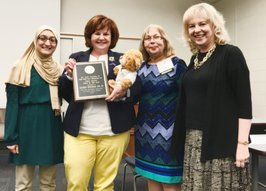 May 9, 2017: Celebrating National Nurses Week! Meeting Agenda
NJAPHNA's general meeting on Tuesday, May 9th started with the celebration of Nurses Week 2017. The morning's presentation included a series of wellness and relaxation techniques showcasing Thai Chi, Aromatherapy and Mindfulness/Soundfullness. A luncheon thanking New Jersey's Public Health Nurses for all they do followed. Loletha Johnson of the NJDOH provided information on NJDOH's new Zika program offering mothers who test positive with a follow up services after delivery. Kathryn Whitehead was awarded the 2017 NJAPHNA Public Health Nurse of the Year title. Business concluded with a general meeting at 1pm with updates from the executive committee and committee chairs. Happy Nurses Week 2017!!
---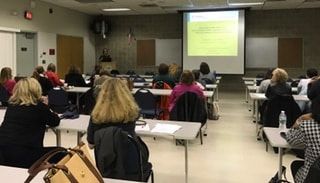 March 7, 2017:
Meeting Agenda
​Topic:
Public Health Law and Policy: Impact for NJ Public Health Nurses
Presenter:
Kerri McGowan Lowrey, J.D., M.P.H
NJAPHNA members: presentation slides can be found on the log-in page.
Great resource:
http://www.njleg.state.nj.us/
Reminder:
---
---
2016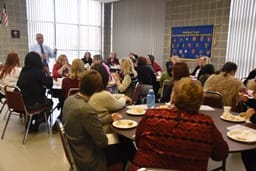 December 8, 2016: Meeting Agenda
New Jersey Association of Public Health Nursing Administrators held their yearend general meeting on Thursday, December 8th at the Middlesex Fire Academy with members from across the state of New Jersey presiding. New Jersey State representative Jill Dinitz-Sklar, MPH, gave an informative and thought-provoking presentation on Perinatal Hepatitis B followed by New Jersey State representative Loletha Johnson, RN, MSN presenting on Perinatal Zika in New Jersey. Currently there is no active transmission of Zika with in New Jersey. Merck provided education for vaccine related topics, concentrating on vaccinating the elderly. We are grateful to all members who continued to participate in our general meeting following lunch, which included updates from our co-presidents and committee members.
---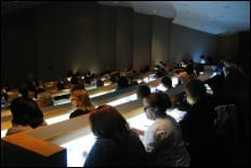 September 13, 2016: Meeting Agenda (NJ PHN Summit)
NJAPHNA collaborated with the Public Health Training Center, Rutgers School of Public Health to hold the 12th annual New Jersey Public Health Nursing Summit at Middlesex Fire Academy on September 13th, with 110 in attendance. This summit was focused on "Transforming Population Health Data into Public Health Impact" with the following presenters: Toni Lewis, MPH, HO – Transforming Population Health and Rose Peulle, PhD – Population Medicine. P
anel presentation includes
Hanna Hamdi, PhD, Gina Miranda-Diaz, DNP, MPH, APHN-BC, and Vinga Singh, MSN, APN-C facilitated by
Minnie Campbell, DNSc, RN, to present the successful stories of transforming data into impact.
---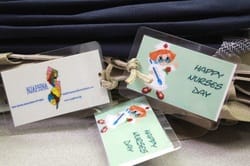 May 10, 2016: Meeting Agenda
​The focus of this quarter's meeting is celebrating Nurse's Week 2016 and updates regarding Zika virus disease, including: transmission of the virus, clinical guidelines and mosquito prevention/control. Speakers included, Tom Slater, CCPH who updated membership regarding simplifying risk communication and general communication via social media. Scott Crans gave a thought-provoking and educational presentation on Zika virus and mosquito prevention/control. Krista M. Reale, MA, CHES rounded out the presentations with an insightful Zika virus disease update including more in-depth education and prevention methods. For more information on prevention, FAQ's and FDA approved chemical free and holistic prevention methods please visit
http://www.cdc.gov/zika/prevention/index.html
---

March 1, 2016:
Meeting Agenda
Our March 1st New Jersey Association of Public Health Nurse Administrators general meeting was a great success! Sandra Howell, PhD with NJ Department of Health; who's presentation on the New Jersey Autism registry and Autism Spectrum was both interesting and informative. The New Jersey Department of Health manages a database registry to monitor children diagnosed via the Autism Spectrum. Click this link to learn
The New Jersey Autism Registry: Information for Providers
. NJAPHNA was also pleased to welcome nursing students to observe and participate in the presentation with us. Our administration is now looking toward our May 2016 General Meeting and the celebration of Nurses Week 2016! Please stay tuned as we nominate our Public Health Nurse of the year for 2016.
---
---
2015
December 10, 2015:
Meeting Agenda
NJAPHNA celebrated Twenty Fifth Anniversary (25th)
Lisa Salberg, Founder, CEO HCMA (Hypertrophic Cardiomyopathy Association), presented Hypertrophic Cardiomyopathy disease including signs and symptoms of disease, disease management and treatment options.
Beverly Kupiec-Sce, Ph.D., RN, Director, New Jersey Department of Health Children's Oral Health Program presented "Nuts and Bolts" and FAQs Regarding NJDOH'S Children's Dental Program
Past Presidents of NJAPHNA participated in the anniversary celebration. Each brought their special memories regarding the building of NJAPHNA to the event to share with the membership.
NJAPHNA designated Shereen Naqvi of Clayton Township, NJ as the 2015 NJ Public Health Nurse of the Year.
---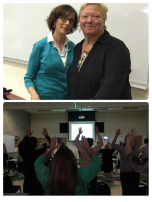 September 15, 2015:
Meeting Agenda
Integrative Health
:
"Integrative medicine and health reaffirms the importance of the relationship between practitioner and patient, focuses on the whole person, is informed by evidence, and makes use of all appropriate therapeutic and lifestyle approaches, healthcare and disciplines to achieve optimal health and healing." according to The Academic Consortium for Integrative Medicine and Health. Nina K. Regevik, MD, F.A.C.P. (top photo: right) and Sharon Yeskel, BA. (top photo: left) Raritan Bay Medical Center presented integrative health on the September meeting.
Photo left: Meeting attendees practice breathing exercise - one of simple and effective techniques for becoming stress resilient.
---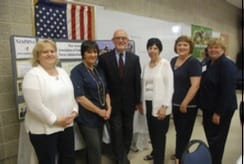 May 12, 2015:
Meeting Agenda
"Public Health Nursing-Changing Times & New Opportunities" by Paul L. Kuehnert, DNP, RN, and director of Robert Wood Johnson Foundation. Paul Kuehnert leads the Foundation's efforts to build connections between health, social sectors and health care to address the multiple factors—social, environmental, economic, behavioral and clinical care—that shape our health. This program will encourage nurses to re-imagine how public health is organized and financed and how to conduct our population -focused practice. Program format includes lecture, discussion and small group interaction. What does the Public Health Nurse can do to improve population health.
---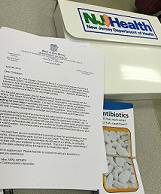 March 10, 2015:
Meeting Agenda
Presentation from North Region Coordinator Public Health Infrastructure, and Emergency Preparedness on the NJDOH Alternate Care Site / Expanded treatment Area Planning Template.
The NJDOH participates in the CDC`s initiative entitled "Get Smart About Antibiotics" In an effort to promote information to the public regarding antibiotic resistance, NJDOH has created a train the trainer program. PHN will receive information and tools to educated groups and residents in their community.
​
---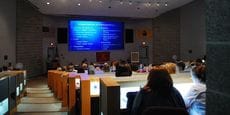 11th Annual Public Health Nursing Summit, June 3, 2015
Sponsored by - Rutgers School of Public Health, New Jersey Association of Public Health Nurse Administrators, and the NJ Department of Health.
Topic: Sheltering Vulnerable Populations & Public Health Nursing: Challenges & Strategies, Susan Bulecza, DNP, RN, PHCNS-BC
Enhanced Ebola Screening Protocols at Newark International Airport: A Look from the Inside, Luis E. Torrens, MPH Public Health Associate
Warren County – Story from the Field
---
---
2014
December 9, 2014 Topic: Essential Components of Tuberculosis Control, Presenters: Karen Galanowsky, RN, BSN, MSN, Nurse Counsultant TB program NJDOH, Patricia Woods, RN, MSN, Nurse Consultant, NJDOH.
September 16, 2014 Topic: Transformational Nursing Leadership: How to Apply It in Public Health Nursing, Presenter: Deborah Gash, RN, MSN, Director of Public Health Nursing, Middlesex County Health Department.
May 13, 2014 Topic "Public Health Preparedness Capabilities and Healthcare Preparedness Capabilities" Courtesy of Carl Michaels, the documents associated with Carl 's Presentation at the NJ.
March 18, 2014 Topics: 1. Understanding the Regional Epidemiologist Role, speaker: Lisa McHugh, BS, MPH, Supervisor of Regional Epidemology Program. 2. Update Regarding Hepatitis C, speaker: Ellen Rudowski, RN, BSN, MSN Research Scientist 1, Public Health Nurse.​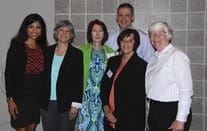 June 9 2014: 10th Public Health Nursing Summit "Childhood and Adolescent Immunization Strategies for Improved Outcomes" Sponsored by - Rutgers School of Public Health, New Jersey Association of Public Health Nurse Administrators, and the NJ Department of Health.
Pictured left to right: Jeni B Sudhakaran, MPH, Vaccine Preventable Disease Program, Dr. Barbara Montana, MPH, FACP Medical Director, Betsy Cubbage, President Elect of NJAPHNA, Arturo Brito, MP, MPH, Deputy Commissioner of Public Health Services, Carole Hudson, President of NJAPHNA, and Dr. Meg Fisher, Medical Director of Unterberg Children's Hospital
---
---
2013

on December 12, 2013, Eric Weren, MS, NJDOH, PEOSH, spoke on Ergonomics for the Workplace and shared the following resources:
---
May 2, 2013 Topic: NJ Updates on AIDS/HIV and Pertussis. Speaker: Dr. Cindy Hou and Denise Garon, MPH

March 19, 2013 Topics: 1. NJ Update on the 2012-2013 Influenza Season presented by Lisa McHugh, BS, MS, NJDOH, CDS Epidemiologist, 2. A Guide to Public Speaker for Public Health Nurses presented by Thomas Slater, BA, MA, NJDOH, PHILEP Communication Manager.
---
2012